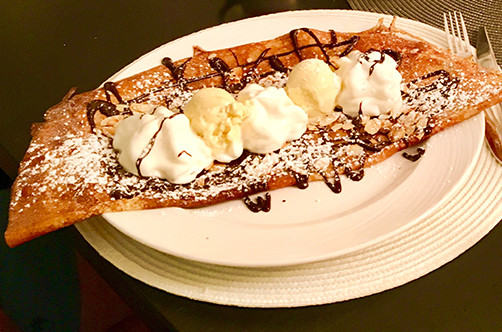 Come visit Provence! Linger in the ancient hilltop villages, explore the snow capped mountains and dive into the clear blue waters of the Mediterranean.
Montauroux…. An area of fine food, fine wines and stunning scenery!
Villa La Garabagne is built into the terraced hillside of the hilltop town of Montauroux in Provence, South of France. Montauroux is situated in the east of the Var and at the border of the Alpes-Maritimes. The town rises in tiers from 150 m to 400 m and has a southern exposure, facing the Esterel Massif and the St Cassien Lake. Montauroux is located halfway between the sea which is 30 km (19 miles) distant and the first ski resort which is only 40 km (25 miles) away and benefits from an exceptional amount of sunny days.
Montauroux has all the charm of a typical small French town. Our own favourite restaurant, Le Marina, is in the old village, serves fine French food and in the summer the tables overflow into the adjoining side streets. There are a number of other nice restaurants and the best pizzas in the area are served at 'La Pomme de Pin'. The usual local shops allow you to buy your newspapers, baguettes and croissants fresh each morning. At the bottom of the village there are bigger shops and supermarkets along the main road to Fayence.
Provence...the Perfect Destination...Summer or Winter!
Montauroux and this part of Provence are the ideal places to stay, summer or winter with something to do whatever your interests. If the swimming pool at the villa isn't big enough for you, then the beach at Cannes is only about 25 minutes away. If you prefer to be on the water, rather than in it, go yachting at Cap Ferrat and Lac St Cassien is the best place for boating for all the family offering a choice or rowing, canoeing and sail boarding.
The more active visitor can see the Alpes Maritimes on horseback or from the air in a passenger seat of a glider or strapped to the pilot of a 'tandem parapente'. If your tastes are more gastronomic then tour some of the local vineyards and take some of the superb local Rosé wine back to the villa. Treat yourself to exceptional contemporary Mediterranean fare at the restaurant at the Four Seasons Resort.
If your interests are more cultural then make sure your trip coincides with the Cannes Film Festival or head for Nice which boasts numerous Museums covering Roman History, Natural History, the French Navy or Chagall and Matisse, among many others.
For winter visitors you are ideally placed only 25 miles from the nearest ski resorts allowing you to return each evening to the mild winter climate of Montauroux and a roaring log fire in the villa.
Villa La Garabagne, Montauroux and Provence – the ideal combination for a holiday in the South of France.
The choice is yours!