What they said about La Garabagne?
It's a lovely villa, we really liked its layout, design and furnishings. Nothing too fussy, the big airy ceilings were great at this time of year.
Conrad Rafique .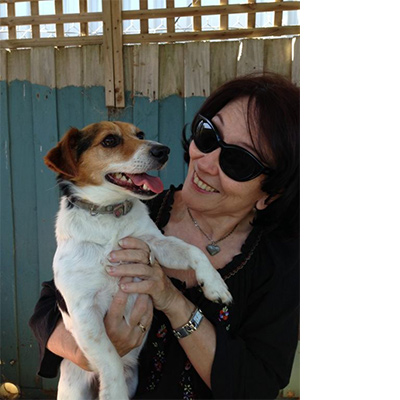 Just wanted to say how much we loved staying at La Garabagne in January. We thought nothing could be better than the fortnight we had there in September when we swam every day and explored the local villages, markets and cafes in perfect weather and picked ripe cherries and figs from your garden. But the villa was just as beautiful and comfortable in winter and we loved the shopping in Antibes and San Rafael.
Our friends insist May is the best time in the south of France so we might try that next time.
Di.


I stayed at La Garabagne in April this year when the gorgeous cerise Judas trees were in blossom. The weather was perfect and not too hot. Unfortunately, I was there a bit too early for the pool as it doesn't open until May. The evenings were cooler so it was time to light the fire and snuggle up in front of the TV with a glass of wine. The house itself is beautifully furnished with a well-equipped kitchen and incredibly comfortable beds. It was lovely to have meals on the kitchen terrace with magnificent views over the valley and two of the bedrooms have terraces and views too.
Nice airport is less than an hour away and there were loads of places to visit within easy driving distance such as Cannes, Monte Carlo, etc.
I can thoroughly recommend a couple of weeks at La Garabagne as it's the perfect place to relax and wind down.
JC Warwickshire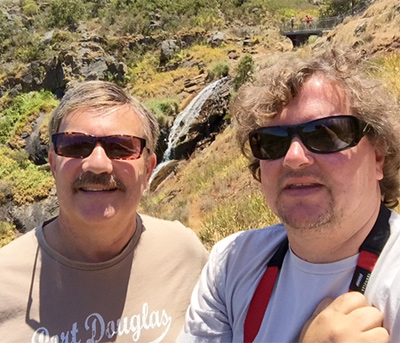 We had a very pleasant stay, the house is well furnished, spacious and comfortable. Great kitchen and dining with excellent access to the outdoor living area. Large swimming pool was fabulous.
Easy walk to the friendly village, which has bakery, supermarket, bars and tourist info office, easy drive to the coast, and surrounding villages which all have their own identity, Fayance, Grasse, etc.
Roddy

Ooh la la....if you are looking for a unique French experience you simply must visit the beautiful medieval perched village of Montauroux and stay at Maison La Garabagne with stunning views from the terrace of the surrounding towns and vineyards (this area is premier producer of Rose wine and has a generous gastronomy to match).
Here you will avoid all the crowds of the Riveria (unless you want to pop down for the day) and instead experience a unique Provence style of living with friendly and helpful neighbours and local shopkeepers; play a leisurely game of boules in the village square whilst sipping on a Rose from a nearby cafe; the surrounding markets are full of wonderful local produce...and I particularly enjoyed Fayance.
La Garabagne is tres chic with its beautifully appointed bedrooms, fully equipped kitchen, open fireplace...and oh those fabulous shutter doors leading to the alfresco style of terrace dining. And anytime is the right time for a splash in the pool at La Garabagne. The local restaurants are a short stroll and great for people-watching and I loved watching the village come alive each morning when I went to buy our croissants!
To me La Garabagne is magical at any time of the year and I can't wait to return again. Bon voyage!
Lots of love,Robbie (Robyn Poulton, Melbourne Australia)


We enjoyed our stay at La Garabagne. The location is lovely. Montauroux is an authentic French village, complete with a cinema sometimes showing films in English. We ate at Le Marina 3 nights and enjoyed it every time – the staff are particularly friendly. The area has lots of lovely places to visit – Cheryl has covered many of them in her notes but we'd like to add Tourettes: the self-guided walk through the narrow streets decorated with art work is well worth doing (but we didn't notice anywhere for lunch). And the Moulin de la Camandoule restaurant is worth a special mention: it's very quaint and the food and ambience are particularly good. The Garabagne house was a great base from which to explore the area: the house is well equipped & the beds are comfortable. The driveway is a little daunting to begin with but we quickly got used to it.
Jan and Peter


La Garabagne is an elegant yet very comfortable home nestling in a spectacular location with stunning views across fields, forests and mountains. Its lovely swimming pool is an ideal place to chill and relax after a busy day sightseeing! The balcony is a wonderful spot to sit whilst watching the sun go down across the Provencal countryside.
The nearby village of Montaroux is charming and a great place to enjoy a coffee in the square. A visit to La Marina for an evening meal is a must! The villages of Tourettes, Fayence and Callian are very pretty locations in which to soak up the local atmosphere.
If you are looking for a truly relaxing holiday then this is the perfect place!
Lynne and John

We were fortunate enough to stay in La Garabagne in April 2017 for three weeks. The weather was perfect and so was the villa! We found its proximity to so many little historic villages (so much fun to explore) and all other centres e.g.Cannes, Grasse, St Tropez, San Remo, Nice and so many others. The actual village of Montauroux was perfect PROVENCE with a fabulous restaurant we frequently visited. Being able to come back each night to such peaceful surroundings was a real bonus. We considered ourselves to be extremely lucky to have had the opportunity to stay and would recommend it wholeheartedly .
Lyn & Colin Newlove, Brisbane, Australia)


We so loved our stay there this summer - it was once again magical. Le Marina was so good! There was a new restaurant we tried around the corner from Le Marina - Histoire Sans Fam - it was also very very good! Actually I have to say those 2 places were the best on our whole trip.
Being so close to everything was awesome - great place to explore Cannes and so many wineries!
Hopefully we will get there again soon!
Sam and Aled xoxo


A long way from Australia but we felt ' totally relaxed and at home ' at beautiful La Garabagne. C'est Trez bon !! We had visited Provence many years ago and just had to return !!! Montauroux was perfect as our chosen base to revisit some of the unique villages we remembered in the area but kept finding new and interesting places as well. Our favourites on this trip were Fayence ( fab. Saturday market) beautiful Callians is a MUST, Seillans ( lunch at Michelin rated " Chez Hugo's " with it's amazing views should not be missed ) a tour and tasting at Val d'Iris local vineyard, we also travelled to Italy on a day trip ( approx.. 45 mins each way !!! ) to visit the foodie markets and enjoyed lunch at La Gritta in Bordighera. Magnifique !! We shall return……!!
Andi and Les Brisbane, Australia May 2018


Three of us had such a great stay at La Garabagne in June this year. We had stayed in Provence a number of times but this was the first time in this particular area. What a lot to see and do. Although we must confess that we had a couple of days just playing at being locals. Wandering into the village and lazing around the pool in perfect weather.
Most nights we stayed in because dinner and sunset on the upstairs terrace was too good to miss. Yes the road to the house is daunting but my wonderful husband, Alan mastered it on day one. We had everything we needed and loved the house and location. Thanks Cheryl and Julian.
Pamela, Alan and Suzanne Sydney Australia

From July 14 to July 28 we stayed at Villa Garbagna in Montauroux. We had found this villa on www.gites.nl. The contacts with the local agent and the house manager were pleasant and professional. We have inhabited the house in varying numbers. Sometimes with the two of us and some time with 4 friends. My son has also come along with a friend. The house was experienced as very pleasant by everyone. The location near the village of Montauroux was perfect. There was always someone to find bread at the boulangerie because the reward was a coffee on the beautiful terrace in the square. The visit to the chapel of Cristian Dior in Montauroux was very worthwhile, partly due to the enthusiastic explanation of the manager. The chapel is only open 2 mornings per week. The driveway to the house was a bit steep but all our cars could come up. Our favorite restaurant was the auberge in Mons with a great view over the valley and delicious food from the terrace. The pool was cool and very well maintained. Only criticism; there was no large pasta / soup pot in the house. I still wanted to buy one from Lecler but could not find one. Two wonderful weeks in a beautiful environment.
FAMILY GOOSKENS, Netherlands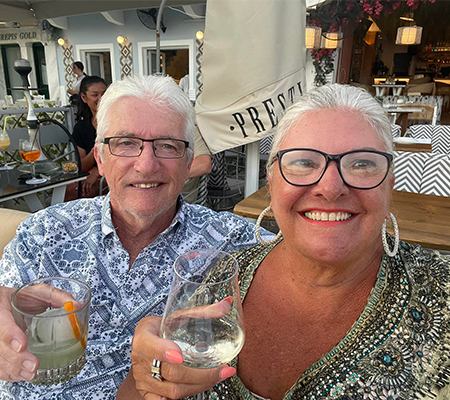 Beautiful Villa La Garabagne Montauraux France.
What a truly wonderful Villa and French village to stay in and enjoy everything that it has to offer. We booked for 4 weeks 11th June-8th July 2022.
Firstly, the Villa is very pretty and well located with an easy 10 minute walk to the bakery every morning to purchase freshly made breads and pastries. Then sitting outside every morning looking at the view under the 400 year old Olive tree was so very french! The 3 bedrooms were lovely, we had the main front room with a beautiful big window with shutters that we would close every night and open the next morning to take in the breathtaking view. The 3rd bedroom had an ensuite, whilst the other two shared a shower/bathroom with a separate toilet and this all worked very well as we did have 6 people stay for one week during our 4 week stay. The pool was sparkling every day and I spent many hours reading and working on my tan.
Montauroux is so close to so many wonderful towns and villages. We visited Saint Paul De Vance which was really lovely, Grasse with all the fabulous pink umbrellas, St. Tropez we took the advice not to drive but to go to St. Raphael and took the ferry, the weather was not great the day we went but the town was really lovely and we enjoyed a very long lunch at Nano Trattoria.
Cannes for the day is fabulous if you book a lounge on the beach for the day and enjoy the wonderful staff and food that was available, also I had the best pasta with Gorgonzola sauce ever!
Antibes also for a day on the beach we highly recommend the YOLO Beach Club.
The lake nearby Montauroux Lake De Saint-Cassien was also a great day out if you book a sun bed for the day, it does get very busy on the weekends.
We also took an overnight stay to Avignon and then onto Marseille which we found way too hectic for us and we headed back to the sanctuary of La Garabagne and it felt like coming home.
The local shopping centre for food and alcohol is 5 minutes away and they literally have everything you could possibly want especially the fabulous cheese section. You must try the Truffle Cheese it was to die for and the Rose is really good price.
The village of Montauroux was lovely as was the restaurant Le Marina. We went 4 times as the food was really good and the next little village Callians was absolutely worth a visit for an Italian meal.
The time approached after 4 weeks that we had to continue the next stage of our trip, we loved everything about La Garabagne and highly recommend it if you are planning a trip to the south of France, then Montauraux is perfect!
Au revoir,
Darrianne & Phillip Donnelly, Manly Beach, Sydney Australia